Faces vary a lot in shape and dimension, so picking a size for your mask is about what makes you feel best in your mask. Here we'll explain how to pick a size easily and effectively.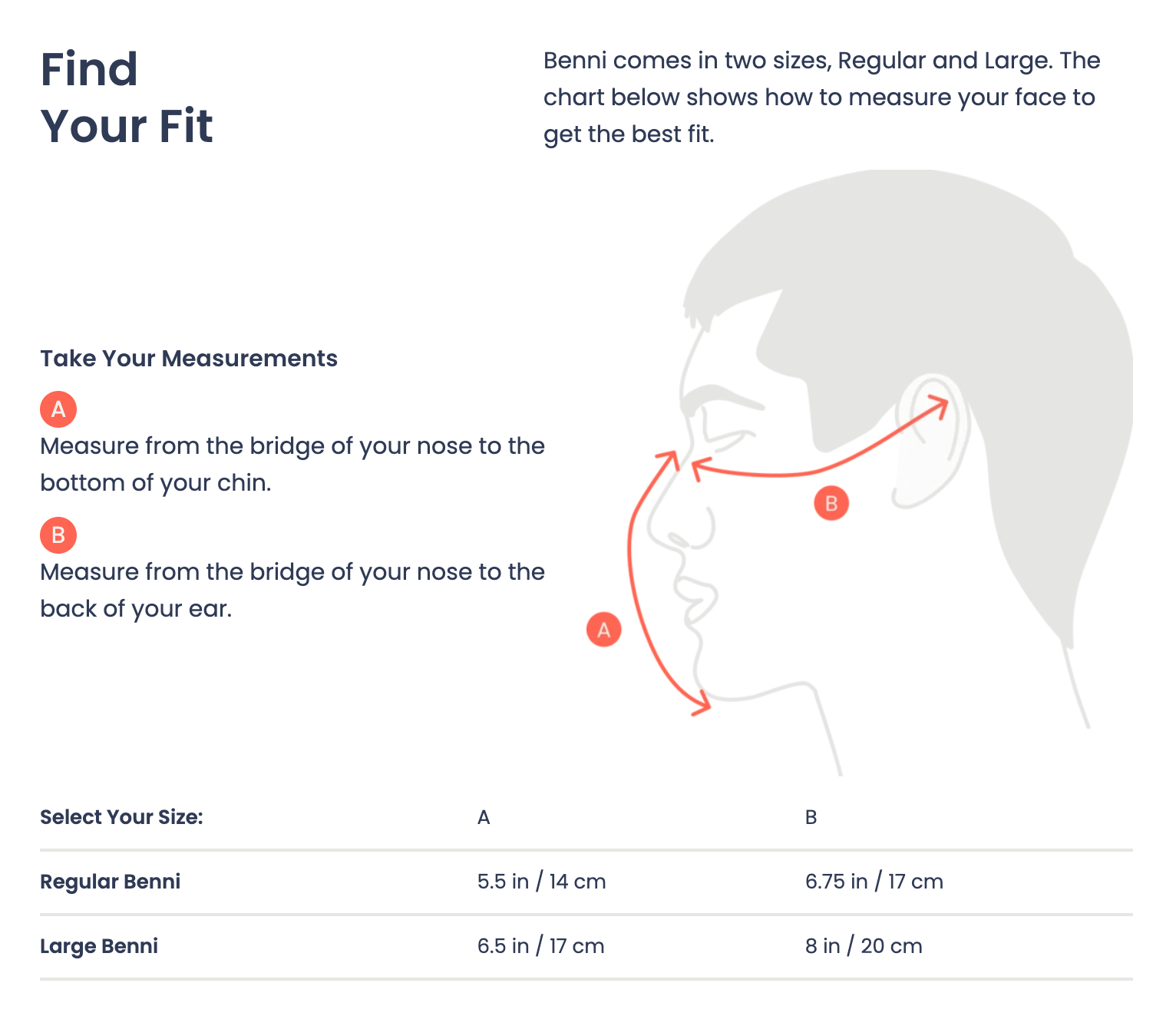 Identifying Your Preference
Mask size is as much about your preferences as it is about your measurements.
If you wear glasses, you might prefer a larger mask that will keep your glasses from getting foggy. If you wear eye makeup, you may want a smaller mask that stays lower on the face. There are loads of other factors like the shape of your face or length of use that might affect this.
If a disposable mask fits well, you'll probably be happy with a regular size mask.
If you've noticed that a typical disposable mask or cloth mask has trouble staying high on your nose and underneath your chin at the same time, you might want a large mask.
The majority of our customers are happy with a regular size mask, and if you're unsure, we recommend the regular.
Measuring Your Face
If you want to be sure about your size choice, you can measure your face.
One way is to use a tape measure and follow the diagram above. This will be the most accurate. But here's the "hack" method for face measurement.
Fold an 8.5 by 11 inch piece of US letter paper short edge to short edge (or "hamburger fold"). The folded paper will now be 8.5 by 5.5 inches.
Place the paper against your face lengthwise, with one 8.5 inch edge of the paper on the bridge of your nose, and notice where the other edge lands.
If it reaches the edge of your chin or passes it, a regular mask will fit you fine. If it comes up short, a large mask might be a better fit.
Whatever your size, we're confident that you'll find the Benni comfortable and easy to wear! And if you've received your mask and want to know more, check out our other FAQs here.