When we first started selling the Benni, we were surprised to find out that some customers didn't even realize that the ear loops (which we call Airloops) are adjustable. We've come a long way since then! Below are some simple steps for maximizing ear comfort with our trademarked Airloops!
When we say simple, we mean simple. To get the most out of your Airloops takes two steps: (1) Assess your fit and (2) Adjust your Airloops.
STEP 1: Assess your Fit
A tight mask will rub behind your ears and press into your skin, causing uncomfortable chafing and imprints of seams left on your skin when you take off your mask.
A loose mask will hang away from the face and won't seal around your mouth and nose. You might feel air escaping around the edge as you breathe, or you may need to hold the mask to your nose with your hand or glasses.
When your Benni fits correctly, it will create a nice, comfy seal around your face. The ear loops should produce enough tension to secure the mask snugly to your face without hurting your ears and the mask should not leave marks on your face. If this is not the case, you'll need to . . .
STEP 2: Adjust Your Airloops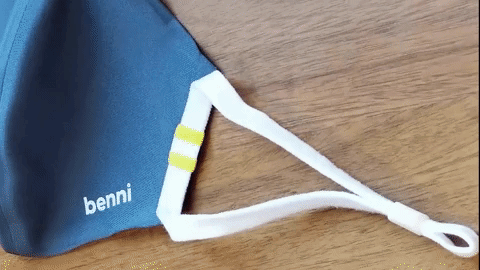 To tighten your Airloops, slide the pebble in towards the mask as shown above. Make sure to grip the loop firmly, keeping both sides even and taut. Repeat with the other side. To loosen your Airloops, slide the pebble away from the mask.
The Secrets of Pebble Position
One big secret to maximizing comfort with your Airloops is to remember that the pebble doesn't have to sit behind your ears. It can go anywhere!
Here are some pebble positions that you can try: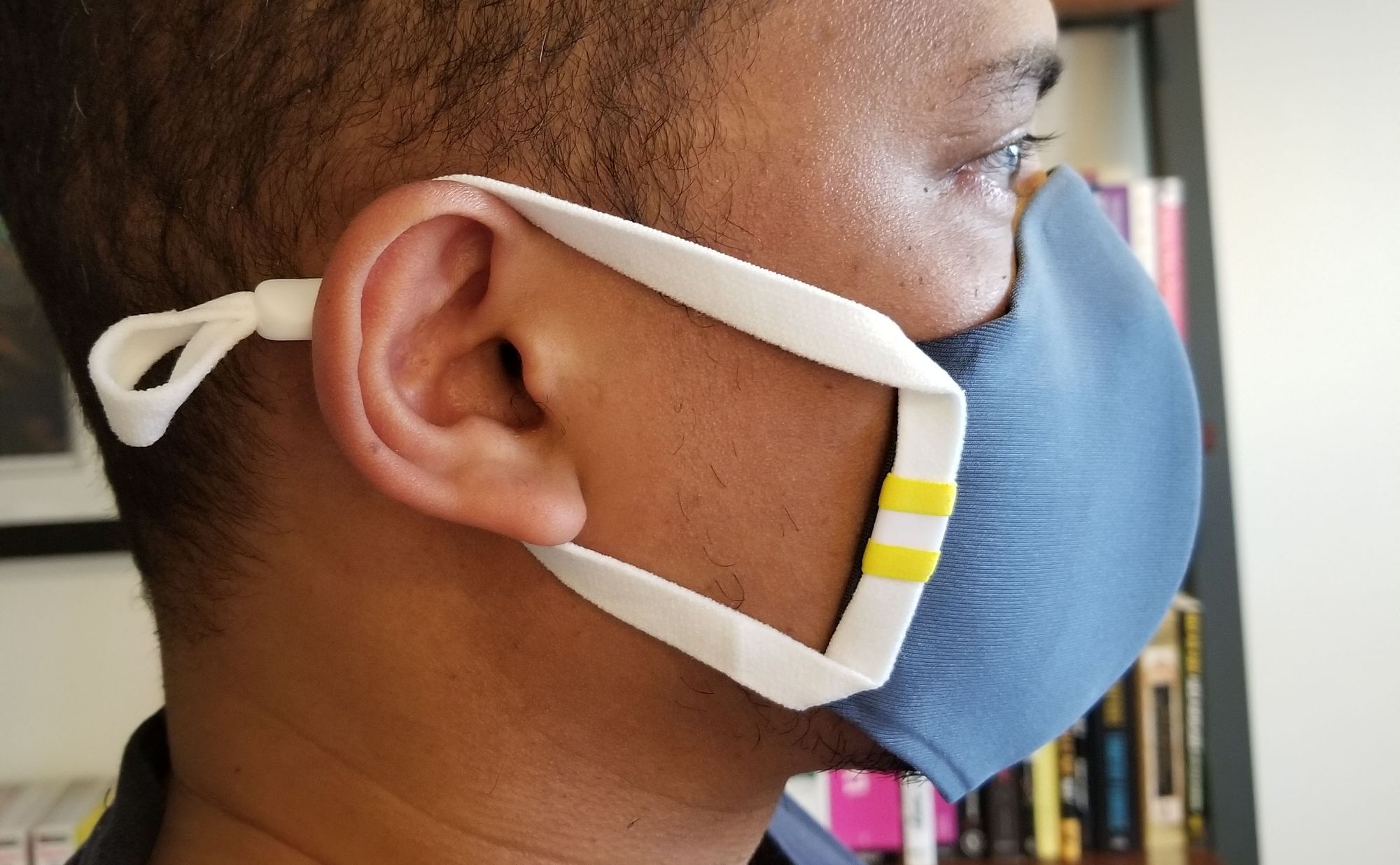 Standard Position
This is where most people start. It's clean and functional and great for a quick jaunt to the grocery store or the gym.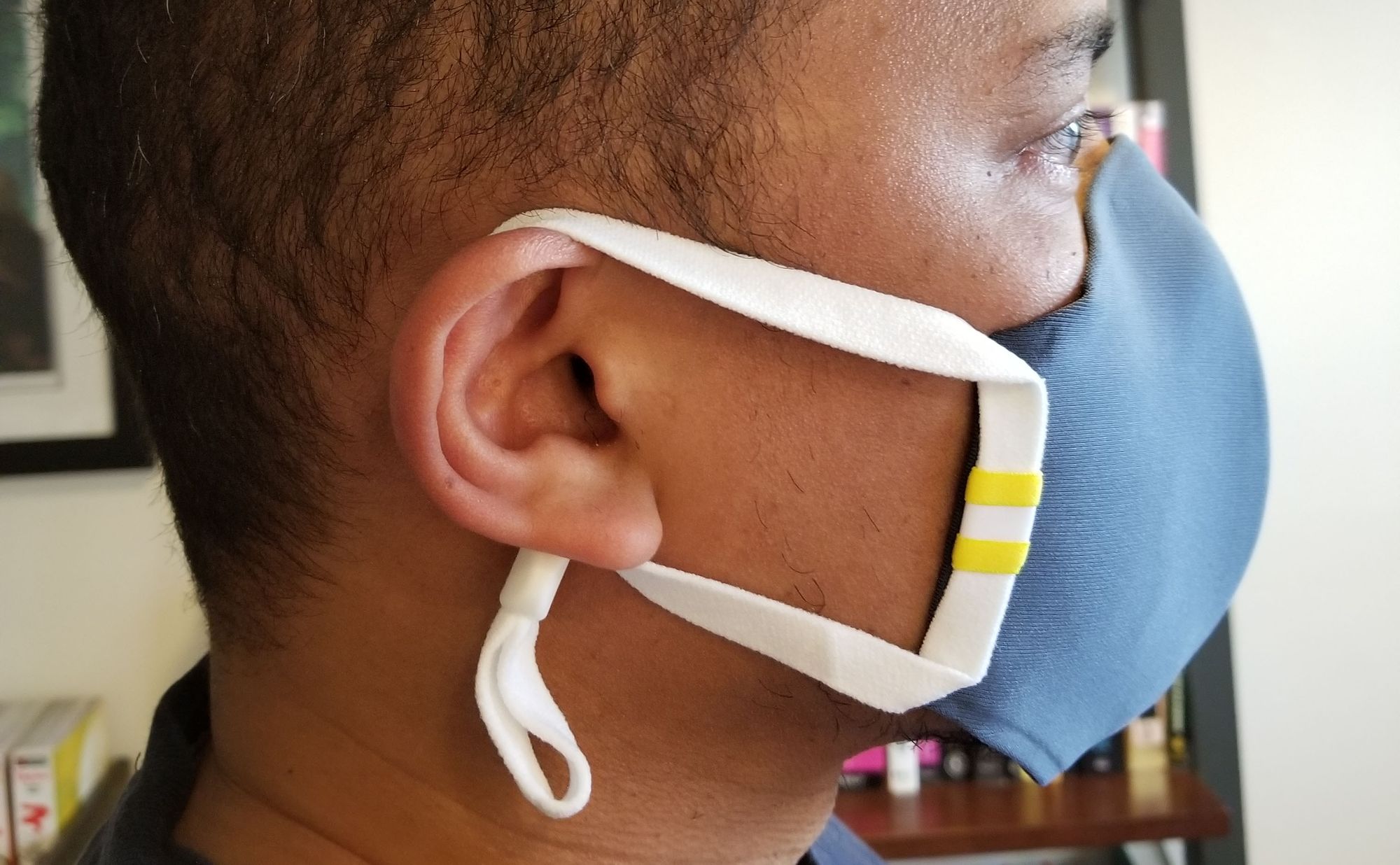 Earlobe Position
Earlobe position is great if you are skiing or biking or doing another activity that requires a helmet. It's also great if you just want an easy alternative to standard pebble position.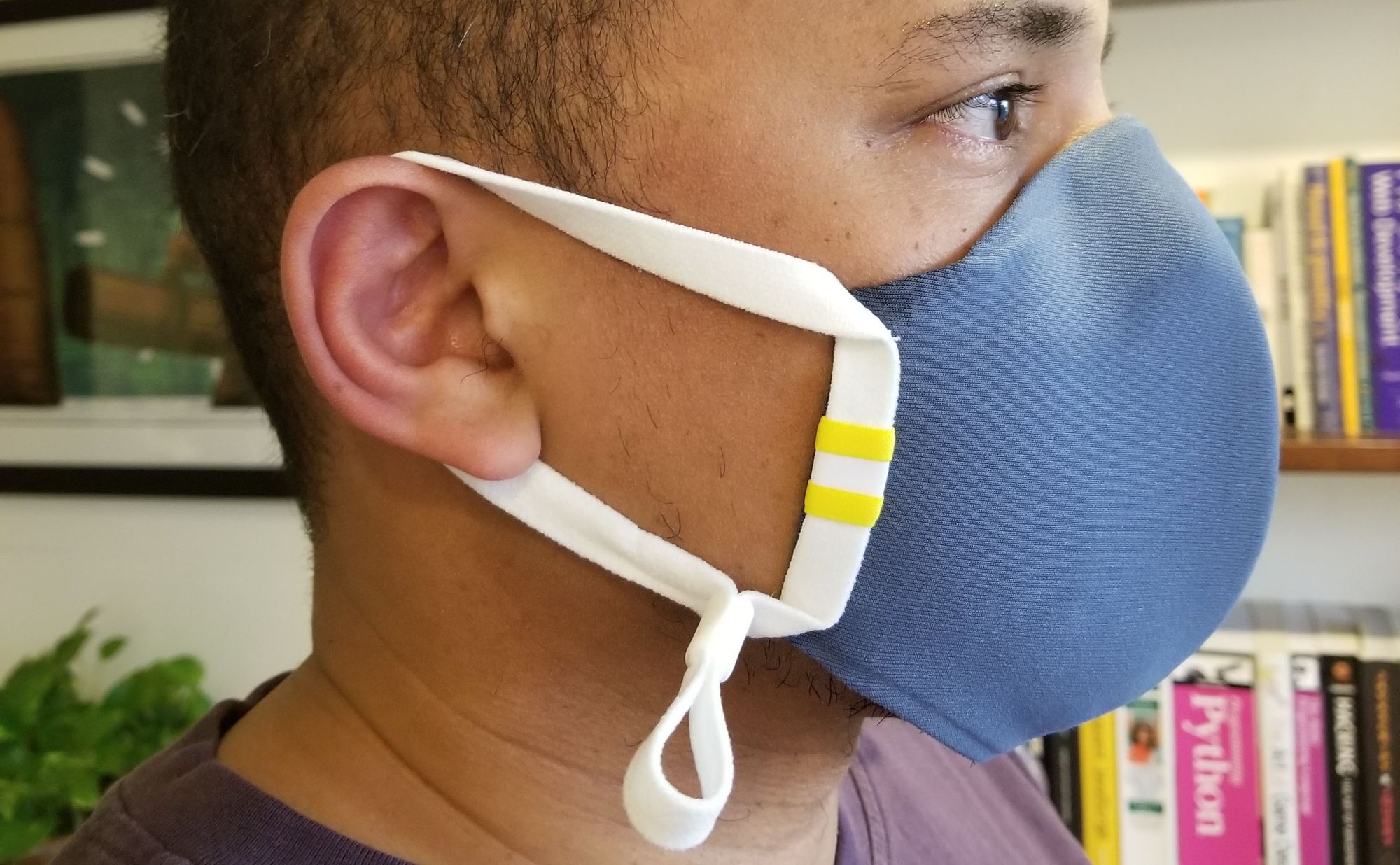 Front Position
This position moves the ear pebble completely out of contact with the face. We consider this the ultimate sport position. It can accommodate all manner of helmet (e.g. a lacrosse helmet) and also makes readjusting super easy.
Adjusting for Earlobe or Front Positions
If you want to try the earlobe or front pebble positions, below is a short clip showing how to make the adjustment. Basically, you pull one side of your Airloop through the pebble until it is shorter than the other. Then you use the extra slack to make the other side longer: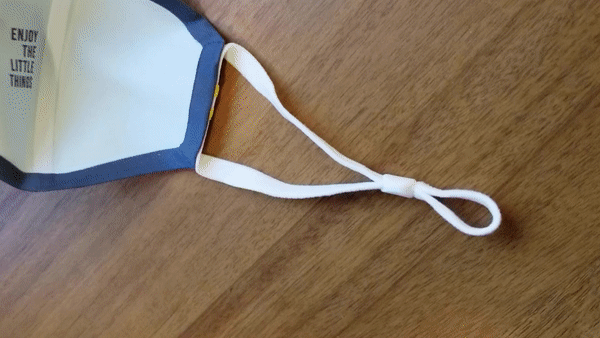 Final Words
We recommend trying the Airloops at different adjustments to get the right fit. You may need to try three or four different adjustments before it feels right, or you might feel comfortable the first time.
Once you've found a good fit, the pebbles will mostly stay in place unless extra stress is placed on them. For that reason, it's unlikely you'll need to continue adjusting your loops as you wear your Benni.
We hope this has been helpful in making your mask as comfortable as can be! Check out the other FAQs here.