If you love Japanese food then you need to spend a lot of time in Osaka. Known as the nation's kitchen, Osaka is by far the best place to eat in Japan. Some food critics even argue that Osaka might be the best gastronomic city on earth. To back up their claim, here are five dishes you have to eat when in Osaka.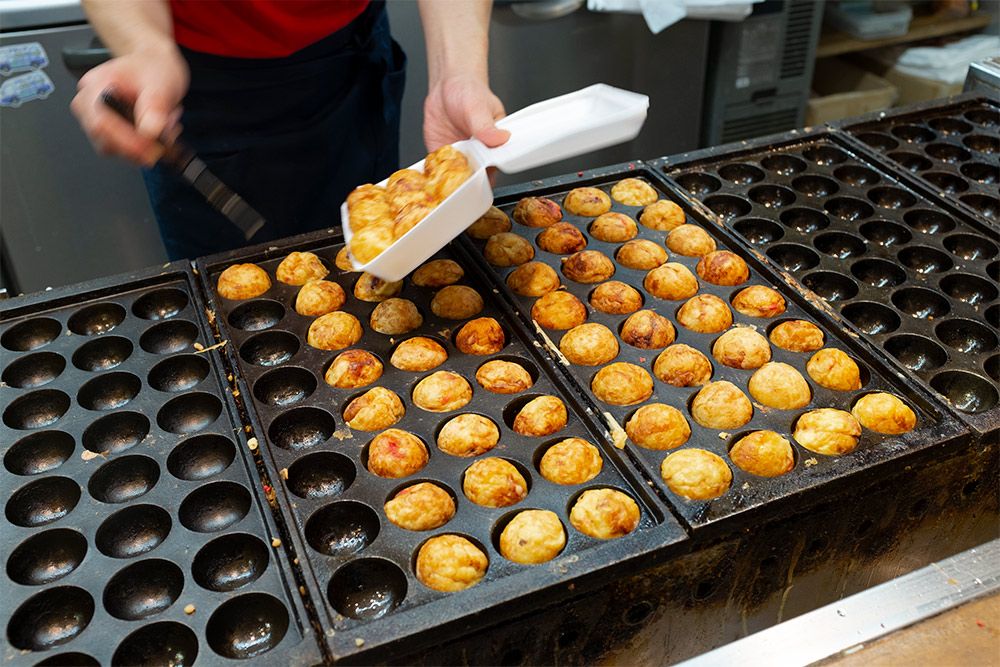 Takoyaki

If there's one culinary symbol of Osaka then it's takoyaki. The perfect street food, takoyaki are round balls of batter filled with chewy cuts of diced octopus, spring onion and pickled ginger. Topped with a brushing of rich takoyaki sauce, mayo, and bonito flakes, takoyaki are cooked in minutes by vendors throughout the city. Be warned: when fresh out of the pan takoyaki are absolutely volcanic - the trick is to pierce the octopus balls with the accompanying toothpicks to relieve some of the temperature before you tuck in.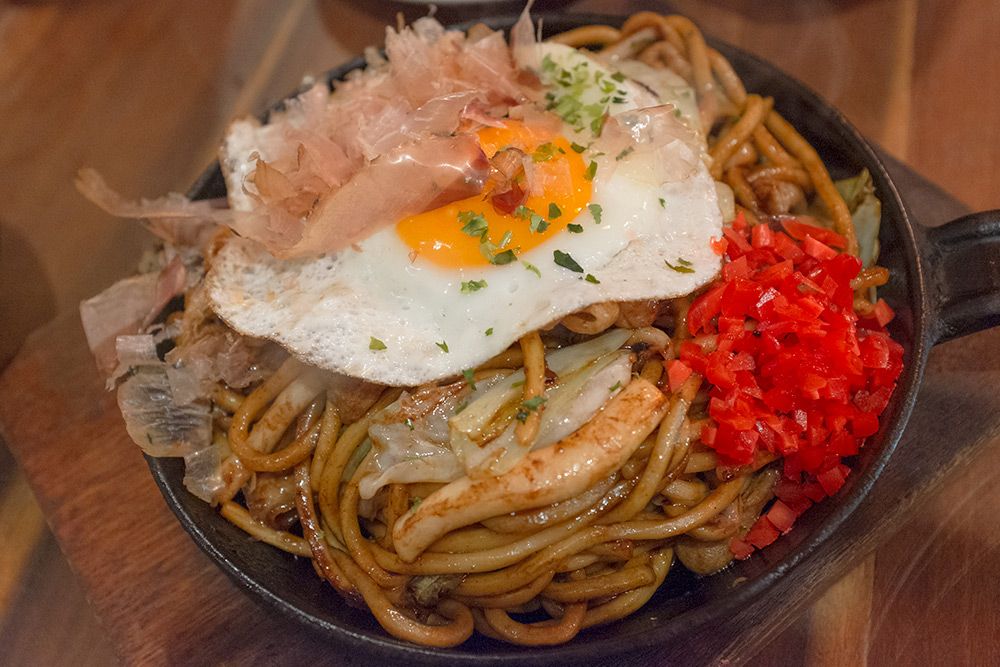 Yakisoba

Yakisoba is another cheap and wholesome classic dish that perfectly represents the so-called "B-class" cuisine that Osaka is famous for. In Japan, "B-class" food refers to the second tier of cuisine, a notch below more classier (and more expensive) dishes. While "B-class" food is cheap there is no scrimping on flavor as yakisoba proves. The dish is typically made with chopped pork and vegetables that are fried together with ramen noodles made from wheat. As is the Osakan way, this is then slathered with a rich dark sauce, mayo, bonito flakes, pickled ginger and often a whole lot more. Pure heaven on a plate.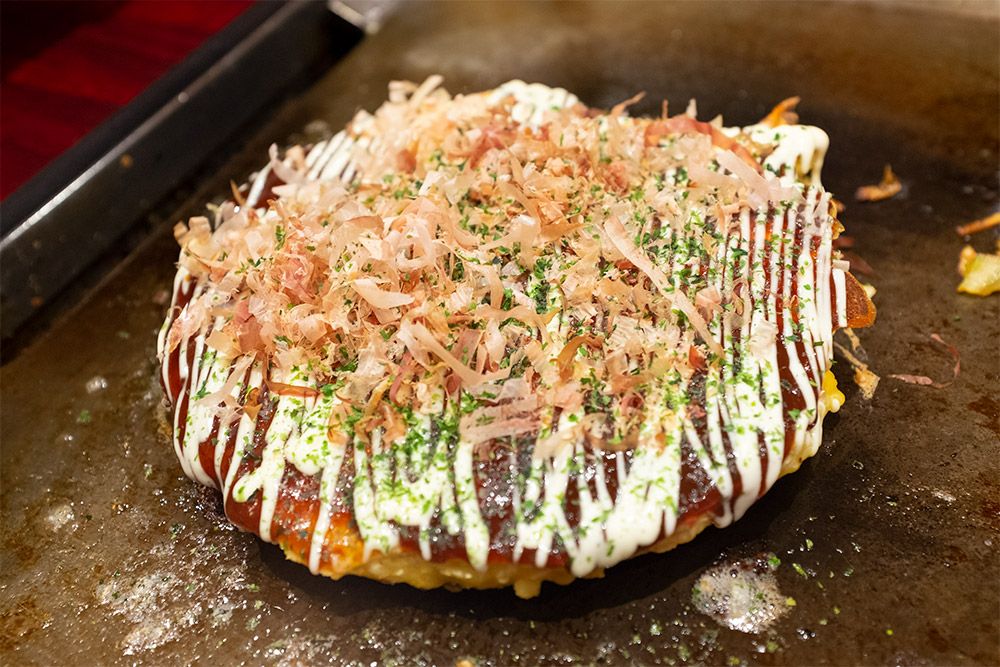 Okonomiyaki

Okonomiyaki is sometimes referred to as Japanese pizza, though such a simple comparison does this Osakan classic a disservice. A typical okonomiyaki mixes octopus, shrimp, pork, squid, cabbage, bacon, and grated yam with an eggy batter. In most okonomiyaki restaurants in Osaka a bowl of the batter and the ingredients are mixed together and cooked on a hotplate either at your table or at a counter. Once cooked and crispy the dish is layered with a rich dark sauce similar to Worcestershire sauce, along with mayo and covered with bonito flakes.

Kushikatsu

Kushikatsu is another staple of Osakan cuisine. The beauty of kushikatsu lies in its simplicity. Individual servings of various meats, seafood and vegetables are skewered, rolled in egg, flour and breadcrumbs and then quickly deep fried. Each piece is typically dipped in a rich sauce which is again similar to Worcestershire sauce. Kushikatsu is said to have been invented in an izakaya in Osaka in the boisterous neighborhood of Shinsekai. This vibrant part of town is packed with kushikatsu restaurants and is still the first place to go to find this uniquely Osakan dish.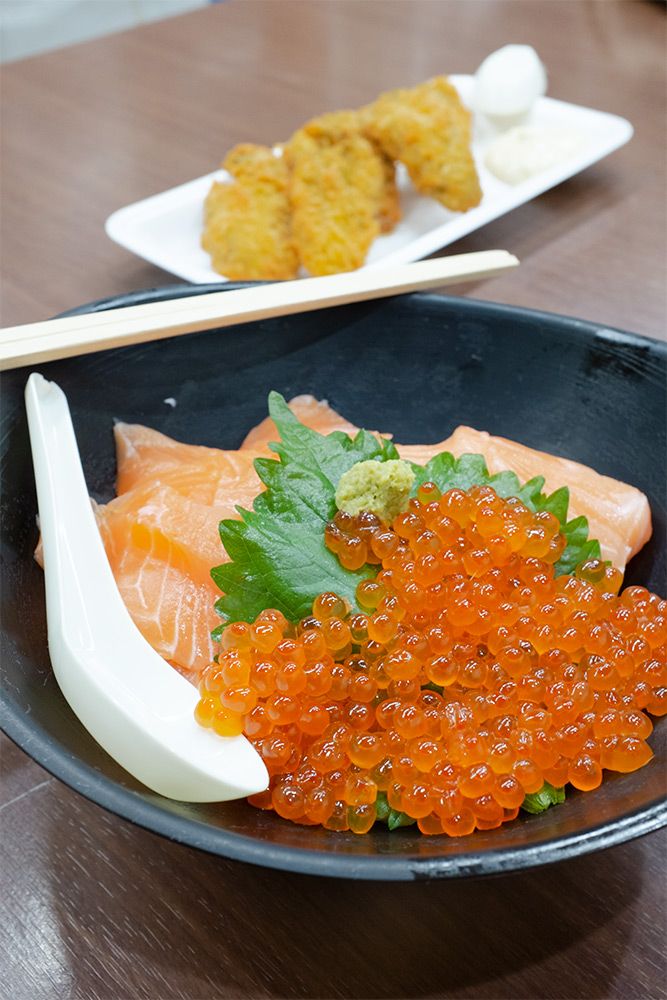 Sushi/Sashimi/Seafood Donburi

It's fair to say that great seafood is not hard to find in Japan. Yet the nearer you are to the sea the better the quality tends to be. Osaka's position as a port means that some of the freshest and finest seafood is brought into the city in the early hours of every day. A lot of the day's catch makes its way to Kuromon Market, a sprawling network of covered streets that are crammed with street food stalls and down to earth restaurants. Here you'll find some of the most mouthwatering sushi and seafood you'll ever have the good fortune to eat.

There's a lot more food in Osaka than just these five options, but I think these might give you a good taste. Here's hoping your mouth watered as much as mine did thinking about all this beautiful food!