I have to admit, it still feels odd to pull on a sweater in the morning, step out into the chilly air, and see skulls and spiders in store windows. I'm almost certain that May was just a few weeks ago, but I'm certainly not dismayed at the cooler weather. The colder weather gives me the perfect excuse to get under a blanket and grab a book, something that'll keep me distracted from the sleet outside and that'll keep me energized through the darker months. And if you have to cut back on your outdoor exercise regimen due to the cold, what could be better than keeping your brain busy with a hot-off-the-press title? The recommendations below are for all those who need an indoor book for indoor weather this fall that'll keep you powered up through the winter and into spring.
1. Cassandra Speaks: When Women Are the Storytellers, the Human Story Changes - Elizabeth Lesser (September 15, 2020)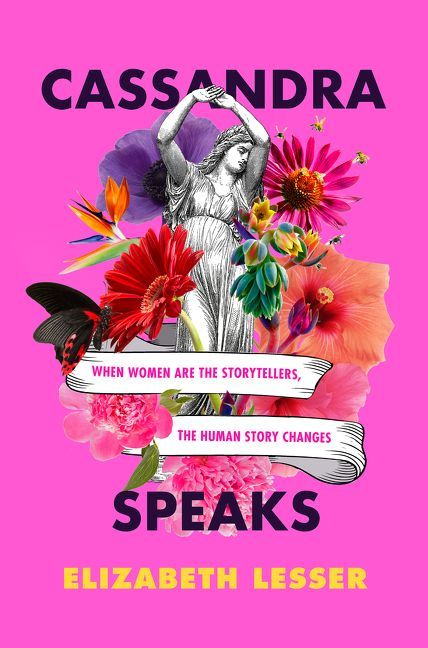 Our stories are chock-full of women described by men––Dido in the Aeneid, Ophelia in Hamlet, and every detective novel with a "dame". What if the women had the chance to speak? In "Cassandra Speaks", Lesser asks what the world  would look like if the voices of women had been centered from the very beginning. The result is a blend of storytelling, the history of femininity, and a path towards empowerment based on lessons from the past. Memoir meets cultural analysis meets self-actualization in this wide-ranging work.
2. What Would Frida Do?: A Guide to Living Boldly – Arianna Davis (October 20, 2020)
Frida Kahlo is one of, if not the best known female artist of all time. Today, she is revered for both her art and her tenacious personality equally, a personality that defined her public and private life as she rose to art world stardom. This new book takes episodes from Kahlo's tumultuous life as a road map for the reader, and as a method for approaching contemporary life. What does Frida's response to Diego Rivera mean about dating in the age of Tinder? What gave her strength after her spinal injury, and what can we learn from that? For anyone fascinated by her paintings or simply in love with the woman herself, "What Would Frida Do?" is a touching and light-hearted exploration of her genius.
3. The Best of Me - David Sedaris (November 3, 2020)
As someone who hasn't read David Sedaris yet, the number of times people have recommended him to me has become a running gag. It feels like his stories laced with wit and confessional humor have made him a favorite of everyone I know. I know which of his books I'll be reading to catch up: "The Best Of Me", a collection of his most popular and best-known essays. These tales from his life prove that to call Sedaris "just" a humorist is to reduce his talent down to a small label: he's also a skilled writer and a deft thinker whose wit and charm include genuine observations on life.
4. A Promised Land - Barack Obama (November 17, 2020)
If you're a reader who follows book news, or if you've been following President Obama's post-White House work, odds are you've heard of this memoir. While a post-presidency memoir has become a standard part of a politician's career, this one has received particular attention. Unlike many prior presidents, Obama was an author before embarking on a political career, publishing "Dreams From My Father" in the 1990s. More recently, the Obamas received an advance of $65 million for this book and Michelle Obama's "Becoming", an unheard of figure in publishing. If not for President Obama's enduring popularity, it would be an unlikely best-seller, at 768 pages and the first of two volumes. It's a daunting task, but you can bet that this will be the book of the season.
5. Stuff You Should Know: An Incomplete Compendium of Mostly Interesting Things - Josh Clark, Chuck Bryant (November 24, 2020)
I, for one, am a big trivia fan. I am always happy to share ridiculous bits of knowledge that may or may not be relevant to the conversation. And if you feel the same, or if you just like to know things for yourself, this book from the creators of the titular podcast is a great "compendium" to flip through and collect new tidbits for trivia night at the bar. But these guys know that it's passe to just list off facts––instead, you'll be able to hold forth on topics animal, vegetable and mineral. Great for the coffee table and great for some fun conversations, you should get to know "Stuff You Should Know".

6. More Than a Body: Your Body Is an Instrument, Not an Ornament - Dr. Lexie Kite, Dr. Lindsay Kite (December 29, 2020)
Identical twin sisters and PhDs in media studies and body image, Drs. Lexie and Lindsay Kite have dedicated their careers and now this book to exploring body image and dysmorphia, and providing a way out. More than just a self-help book or collection of essays, "More Than a Body" provides an action plan backed up with academic research to help the reader recalibrate their relationship to their body and their perception of it. This book aims to help the reader redefine and newly understand what beauty should mean to them, by providing an alternative to the dominant narratives today.

As the weather gets cooler and we start spending more time indoors away from the rain and snow, I hope some of these books will help you stay cozy and energized. Stay warm and wise, and happy reading!